Princess of Sparta on Bestseller list on Amazon!!!
Hey folks,
I'll be blogging about this experience in the weeks to come, so this is just a short update on the promo in progress. This morning we launched a BookBub promo, offering The Princess of Sparta up for free until Friday Jan 30th (Click here for the Deal). In a few short hours we've had thousands of downloads and jumped to #1 on Amazon in the Ancient World Historical Romance category.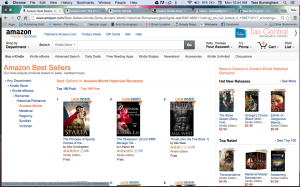 I am so happy to welcome in the new readers. And though the first book ends with a cliffhanger, they won't have to wait long for the sequel. The Princess of Prophecy is currently up for pre-order and will ship March 1st!
Thank you everyone for making this day happen. Till next we speak…remember to follow your heart. In love and career!